Business and Sports Innovation
Based on over 25 years of hands on management experience in innovative technological companies and fast moving markets we help entrepreneurs develop their companies. Innovation is one of the most important sustainable driving forces for successful enterprises. Managing innovation and incorporate it into the very heart of a company is a challenge we have successfully taken on and will gladly do so again.
Sports is passion, positive atmosphere and, mostly healthy. Man is not made to sit down and work with brain and voice all day. Wether it is professional sports, amateur or children playing, the fact that body and mind are in tune will make people think better and perform better also in their day to day business. read more about V2C activities
Phased approach to innovation consultancy

Because a consultancy process can be very effective in short bursts we apply a phased approach. Via a quick scan you can already learn quite a lot about your possibilities to innovate your business, or make business out of your innovations. From this quick scan most either a focussed approach results, or a situation where more than one scenario can be developed to exploit the possible actions towards implementation. In the implementation phase that follows, LEAN methodology pivots can be used to improve the effectiveness of your innovation efforts. V2C can coach these processes.
read more About V2C
Cees Verhoef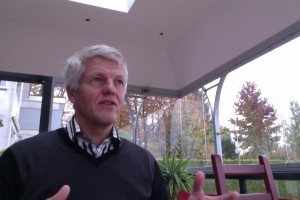 Cees Verhoef (1960) is owner and founder of V2C. In his 25 years career he was always involved in and facinated by Innovation and the mechanism's behind that. From a broad ICT background he gradually focussed more and more towards sports innovation and Small and Medium Enterprises.
Cees Verhoef (1960) is oprichter en eigenaar van V2C. In zijn cariere van meer dan 25 jaar altijd zeer geinteresseerd geweest in innovatie en de beweging daar achter. Vanuit een brede ICT achtergrond is hij gelijdelijk meer en mer gan focussen op de toepassing van innovatie in sport en midden en klein bedrijf.
read more about Cees Verhoef